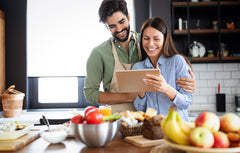 I purchased the Mason Jar bags for packaging cookie gifts. I absolutely love anything rustic, homemade and i think mason jars add that extra charm to a gift. I searched for these a while on Etsy, but couldn't find anything that had that rustic look.
The bags seal nicely and keep items fresh. Its also a plus that they are environmentally friendly and you can wash and reuse them. I know I'll probably purchase more things from Kitchen Dino, Customer Service was great

Elaine L.
It's my 2nd purchase with Kitchen Dino! This time I got the defrosting tray. It really defrosts 2 times as fast as a similar one that I have and 10x faster than traditional defrosting. Highly recommend. I was pretty skeptical when I bought it but has me convinced.

DebJ
So I bought the silicone gloves for my roommate. She was super stocked to try them out right away. !!!! The outcome: awesome. She even said she only used 1 pump of soap to do the dishes. She scrubbed the sink in the end now she determine to use it for other things to clean. Price was so awesome. Product perfect!!

Louise S.
The Adjustable Rack is perfect for what I need it to do. Fits just right, is more than sturdy enough, and has made my absolutely nightmarish spice cabinet look awesome. No more duplicate spices going bad in the back of the cabinet! It's not at all difficult to assemble. Very satisfied!

Angela B.